Cobblers are one of the best comfort foods. Another simple cranberry recipe today that includes blueberries, peaches and a few other ingredients, which can be easily found in one's pantry. If you follow the recipe you'll see that it's not that difficult to make yet tastes awesome, especially with ice cream. Another good cran recipe if you like this type of dessert is the cranberry blackberry cobbler post which features another variation of cranberry combinations, just like this recipe. Good to eat any time of year. Now, back to the cobbler; this recipe is pretty straightforward and will become a staple in your home if you like to have your desserts be both tasty AND healthy (as much as possible anyway).

Ingredients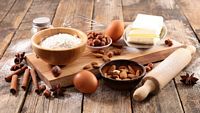 Crust

1 cup flour
1/2 cup sugar
1 tsp baking powder
1/4 tsp salt
1 egg
1/2 tsp vanilla
1 stick (1/2 cup) chilled butter, cut into pieces

Filling

1 cup cranberries
1 cup blueberries
3 cups soft, ripe peaches
1/2 cup of sugar
1 tsp lemon juice
1/2 tsp cinnamon
Directions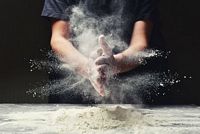 Add fruit to a greased 9″ pie dish with sugar, lemon juice and cinnamon. Mix well.
In a large bowl, combine dry ingredients for the crust portion, and then add in the butter, egg and vanilla .
Make a dough out of this mixture by hand and crumble on top of the filling.
Bake at 375° on a cookie sheet for 30 minutes.
…
Notes & Options:
There are lots of ways to modify this cranberry cobbler to spice it up, down or just change it to suit your palate. You can try:
– Using fresh cranberries is always best but if you can't then frozen work just as well.
– Add some nuts to the filling. I recommend chopped almonds.
– Some fruit like blueberries are not always easy to find so feel free to substitute with strawberries, raspberries or even blackberries to counter the delicious but tart cranberry taste.
Make it Healthy – Replacing the sugar in the filling and topping with granulated sweetener will ensure your cobbler is sugar free and purely a starch food. Like eating fruit and crust – much healthier.
Enjoy
…
More Cranberry Recipes
– Top Recipes
– Cranberry Blueberry Muffins
– Cranberry Pancakes
– Cranberry Oat Bars
– Cranberry Topping
– Easy Cranberry Turnover
…