This recipe has the cranberries cooked inside the pancakes as opposed to making a regular pancake and adding scoops of delicious cranberry topping over top of it, like this one.

Ingredients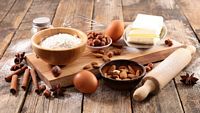 1/2 cup fresh or frozen cranberries
1 egg
1 cup milk
1 cup all-purpose flour
Directions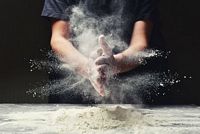 Add some butter to a medium frying pan on the stove and set just a bit above low. We want to slow cook these pancakes so the cranberries get a chance to warm and soften as the pancake cooks.
Add all ingredients to a medium sized bowl and stir well.
Scoop up about 1/3 of the batter with a ladle and pour into the center of the pre-heated (butter melted) frying pan and spread it out to be a little thinner.
Cook both sides until golden brown.
Top with maple syrup or additional cranberry topping.
…
Notes & Options:
There are lots of ways to modify these cranberry pancakes to spice them up, down or just change it to suit your palate. You can try:
– Using fresh cranberries is always best but they can be a bit tart which is why we add maple syrup to the pancake or sugar to the topping.
– Add some cinnamon to the batter give these cakes a holiday, spicier feel.
– Make sure you are generous with the butter so the pancake doesn't stick to the pan, about a TBSP minimum per pancake.
Make it Healthy – Replacing the sugar in the topping with granulated sweetener will ensure your pancakes are sugar free and purely a hearty grain food.
Enjoy
…
More Cranberry Recipes
– Top Recipes
– Cranberry Topped Pancakes
– Cranberry Muesli
– Cranberry Oatmeal Cookies
– Cranberry Yogurt
– Cranberry Coffee Cake
…