Ingredients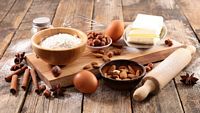 1 package of store bought crescent roll dough (croissant/turnover dough).
1 package (12 oz) fresh cranberries
1 cup sugar
1 cup water
1 tsp pumpkin pie spice
Directions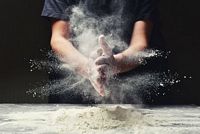 Filling: Place the cranberries, sugar, water, and spice into a saucepan and bring to a boil. Keep boiling until the berries all pop. Simmer for 15 more minutes.
Pour into a container and cool completely until thick.
Place some parchment paper onto a cookie sheet.
Separate dough triangles and roll thin.
Place about 2 TBSP of filling in the middle of each triangle and fold upper 2 corners over top. Then roll up the rest of the dough.
Place turnovers on cookie sheet and space evenly apart.
Bake at 375 degrees for 10-12 minutes. Cool and serve.
…
Notes & Options:
There are lots of ways to modify this cranberry turnover recipe to spice it up, down or just change it to suit your palate. You can try:
– Add walnuts (or your favorite nut) to make it crunchier. Use walnut pieces (or chopped pine nuts even) and sprinkle them in with the cranberries before pouring the filling into the dough.
– Add some of your own favorite spices like nutmeg or cloves to enhance the holiday feel.
– This recipe is sweet. If you'd prefer to have it be healthier, use 1:1 granulated sweetener instead. It will make a big difference to the status of this food going from a dessert to, just a 'snack'.
– Fresh berries are always best, but frozen ones work just as well as long as you thaw them and drain the excess cranberry juice first.
Enjoy
…
More Cranberry Recipes
– Top Recipes
– Cranberry Bread
– Cranberry Rice Pudding
– Cranberry Topping
– Cranberry Coffee Cake
– Cranberry Galette
– Easy Cranberry Jam
– Cranberry Sauce Thickening Tips
…