Ingredients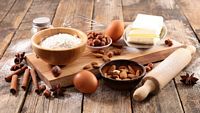 1 cup water
1 cup sugar (replace sugar with 1:1 ratio of granulated sweetener to make it healthy)
1 (12-oz.) package fresh cranberries
Directions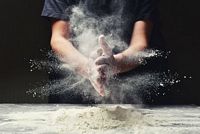 Add cranberries and bring to a strong boil for at least 10 minutes. Reduce heat and cook another 5 minutes, making sure berries have popped.
Remove saucepan from heat and let cool completely, then transfer to a resealable container and refrigerate to chill.
NOTES
– This easy to make Cranberry dessert topping will last approximately 1 week in the fridge.
– Optional: add orange zest or even replace water with fresh orange juice for more flavor.
– Optional: add a small cinnamon stick to the saucepan for a more festive taste.
– To keep this simple dessert topping healthy and/or a diet food, use water, sweetener and fresh cranberries only.
…
MAKE IT THICK!
For a thick (or gelled) sauce do the following:
1. Make sure to boil the mixture for at least 10 minutes.
2. After the boil keep mixture on low heat until desired thickness is reached.
3. Cool completely at room temperature.
4. Add a package of gelatin to the mixture after it's been boiled, stirring frequently.
…
Once made, this incredibly healthy and delicious topping can be used to add some zest and new life to so many of the foods you eat including; pancakes, oatmeal, granola, smoothies, waffles, toast, crisps, cakes, brie cheeses,  Christmas french toast, pork pie, pumpkin pie, yogurts and so many more breakfast or dessert foods.
You can also just sit down with a big spoon and eat it straight out of the bowl. Simple, delicious and full of nutrients.
Enjoy
…
More Cranberry Recipes
– Top Recipes
– Lemon Cranberry Cheesecake
– Cranberry Tart Recipe
– Apple Cranberry Crumble Pie
– Cranberry Oatmeal Cookies
– Cranberry Crumble
…