…
You never need a good reason to make or enjoy cheesecake. It's an unwritten rule you know- just in case you weren't a part of the cheesecake, super-lovers association.
Cheesecake is great because you can substitute the sugar for an equal amount of 1:1 granulated, sweetener and it almost becomes a health food. Fruit topping, high fat and low carbohydrate. Not too far from the Keto trend that's popular and seeing some success right now.
So bearing that in mind, may as well help yourself to a second piece and enjoy the cool, tart combination of cranberry and lemon.
…


Crust

– 2 cups graham cracker crumbs
– 8 tablespoons butter
– 4 tablespoons sugar

Combine graham cracker crumbs and sugar. Melt butter in microwave, add to crumbs and combine. Press into bottom of pan, bake at 325 for 5 minutes.

…

Cheesecake Filling

– 2 pounds cream cheese
– 1 1/4 cup sugar
– 1 cup sour cream
– 2 1/2 cups lemon juice
– 4 large eggs
– 1 1/2 teaspoon lemon zest

Combine the cream cheese and sugar in a stand mixer bowl with a paddle attachment, beat until smooth, scraping down the sides and bottom of bowl. Add the sour cream and scrape once more, add the eggs, scraping the bowl, add the lemon juice and zest and mix until just combined. Pour the cheesecake filling over crust and bake at 250 for 1-1 ½ HOURS (this will vary depending on ovens). Cheesecake will be set around edges and slightly jiggly in the middle. Let cool and refrigerate to set up.

…

Cranberry Topping

– 9 tablespoons sugar
– 3 tablespoons cornstarch
– 1 cup water
– 1 1/2 cup cranberries, frozen
– 1 tablespoon dried cranberries
– 1 1/2 teaspoon lemon zest

Combine the sugar and cornstarch. Combine the cranberries, water, and cornstarch mixture in a heavy duty saucepan, cook over medium heat until thick and bubbling, add lemon zest. Cool and spread over top of cheesecake.

– Enjoy
…
Hope you and your loved ones enjoyed this cake – or you by yourself which is just as valid 🙂 – and look out for more healthy and delicious (and simple) cranberry recipes on this blog.
Cranberries pack a lot of nutrition and you may as well take advantage of that while enjoying a dessert such as cheesecake.
…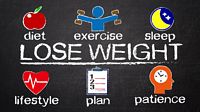 Make it Keto!
*** Modify this lemon, cranberry cheesecake recipe so that the ingredients are as close to zero-sugar, zero-carb as possible. The closer a recipe is to being zero carbohydrate, the closer it is to being a weight loss food.
Healthy Replacements
1- The Crust: Replace the graham cracker crumbs with almond flour, and the sugar with granulated sweetener. See the full recipe on how to make a Keto, or low carb graham cracker crust here.
…
2- Cheesecake Filling: Simply replace the sugar with a 1:1 ratio, granulated sweetener again.
…
3- Cheesecake Topping: Again replace the sugar with a 1:1 ratio, granulated sweetener. You can also replace the cornstarch with almond flour, chia seeds or flax seeds.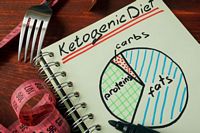 *** Keto-izing your recipes regularly will make a big difference to your health and weight in the long run.
The hormone insulin is responsible for weight gain and for the health issues that come with it, and so trying to eliminate or reduce the foods that spike it in your bloodstream (sugar and carbs) will go a long way to making you slimmer, happier and healthier, while still enjoying your just desserts.
Some recipes just aren't the same when you keto-ize them, which is understandable, but many are savory and delicious, and enjoyed just as much or even more than the original.
…
Aside from the featured Lemon Cranberry Cheesecake recipe, there are many more awesome ways to enjoy cranberries. See more recipes below:
…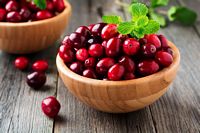 More Cranberry Recipes
…
Cranberries are magnificent berries that are unlike any other. They are incredibly healthy and have an interesting history, here in North America.
Look for fresh, new and delicious ways to enjoy them here at cranby.com.
– Cranby