…
For muffin lovers.
Lemon with Fresh Cranberries Muffins. Citrus, tart and sweet combined.
Any excuse to make muffins is a good excuse. Cranberries, the most awesome berry on the planet, mixed with lemon, and put into a batter. No hard sell needed. Just bake and enjoy …

Ingredients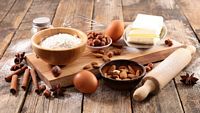 3 cups flour
4 tsp baking powder
1 3/4 cups sugar
1/2 cup vegetable oil
1/2 cup milk
2 eggs
1/4 cup lemon juice
1/4 cup orange juice
1 tsp vanilla
2 1/2 cups fresh cranberries
Directions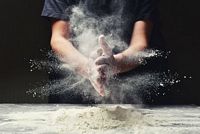 Preheat oven to 350 F.
Prepare a baking tray with 12 muffin cups with either paper liners or non-stick cooking spray.
In a large bowl, mix together flour, baking powder and sugar.
In a medium bowl, whisk together the vegetable oil, eggs, milk, lemon juice, orange juice and vanilla extract.
Add wet mixture to dry and combine, careful not to overmix.
Fold in cranberries.
Bake for 20-25 minutes depending on your oven.
…
Enjoy
…
More Cranberry Recipes
– Top Recipes
– Cranberry Banana Muffins
– Cranberry Oat Raisin Muffins
– Cranberry Muffins with Almond Extract
– Cranberry Blueberry Muffins
– Cranberry Raspberry Muffins
…