Ingredients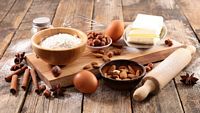 3 1/4 cups flour
1 cup whole wheat flour
2 teaspoons salt
1/2 teaspoon instant yeast
1 3/4 cups water
2 tablespoons brown sugar
1/2 cup dried cranberries
2 tsp baking powder
1/2 tsp baking soda
1 tsp cinnamon
Directions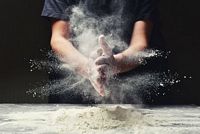 Mix the flours, salt, yeast, brown sugar and water in a large bowl. Form a sticky dough with your hands and add in cranberries.
Brush a very large bowl with olive oil, add dough and cover bowl with plastic wrap then let it rest overnight.
The next day form dough into a round loaf. Place dough in a lightly greased pan or a pan lined with parchment paper. Cover with a clean kitchen towel and let rise at room temperature for approximately 2 more hours.
Preheat the oven to 450°F. Brush dough lightly with water all over the top.
Bake for 30 to 40 minutes or until it is deep brown in color. Cool and slice.
…
Notes & Options:
There are lots of ways to modify this loaf or cranberry bread to spice it up, down or just change it to suit your palate. You can try:
– Using fresh cranberries and then adding in some raisins to make it sweeter. Dried cranberries are already sweet but if you prefer the taste of fresh berries then you can add in the raisins. Or, use both, fresh and dried.
– Add some cinnamon to give it that raisin bread feel. Then toast it once it is sliced and add butter.
Make it Healthy – Replacing the sugar with granulated sweetener and dried cranberries for fresh will ensure your bread is sugar free and purely a whole grain food.
Enjoy
…
More Cranberry Recipes
– Top Recipes
– Cranberry Bread
– Cranberry Orange Bread
– Cranberry Walnut Bread
– Cranberry Pound Cake
– Cranberry Crumble
…