Ingredients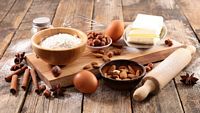 1 lb fresh cranberries
2 TBSP cornstarch
1/3 cup sugar
1/2 cup soft butter
1/2 cup flour
1/2 cup oats
1/2 cup brown sugar
3 medium tart apples, peeled and thinly sliced
1/3 cup sliced almonds, toasted
Directions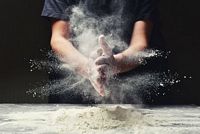 Preheat oven to 350 degrees F (175 degrees C). Grease a square baking dish, or a 9-inch, round baking dish.
Add cranberries, apples, cornstarch and sugar (1/3 cup) to the dish.
In another bowl mix together remaining ingredients to make the crisp topping.
Pour mixture over cranberries.
Bake for 45-50 minutes or until golden brown. This makes for a healthy dessert!
Enjoy
…
More Cranberry Recipes
– Top Recipes
– Apricot Cranberry Cobbler
– Cranberry Tart Recipe
– Apple Cranberry Crumble Pie
– Cranberry Blueberry Peach Cobbler
…