A fun little recipe here featuring walnuts and dried cranberries. If you like the combination of crans and walnuts together in recipes, you should try the cranberry walnut Christmas cake. Now, onto the muffins:

Ingredients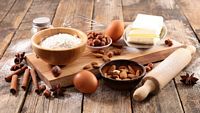 2 cups flour
1 cup sugar
3 teaspoons baking powder
1/2 teaspoon salt
2 eggs
1 cup milk
1/2 cup vegetable oil
1/2 cup chopped walnuts
1 cup fresh cranberries
Directions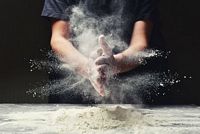 In a large bowl, combine the dry ingredients. In another bowl, beat the eggs, milk, oil and extract.
Stir into dry ingredients just until moistened. Add walnuts and dried cranberries and stir gently.
Fill paper-lined muffin cups two-thirds full.
Bake at 400 degrees F for 18-20 minutes or until a toothpick comes out clean.
Cool for 5 minutes before removing from pan to a wire rack.
…
Notes & Options:
There are lots of ways to modify these cranberry/walnut muffins to spice them up, down or just change it to suit your palate. You can try:
– Using fresh cranberries is always best but they can be a bit tart which is why many people use dried cranberries in their recipes.
– Add some different types of nuts to the batter to give these muffins a satisfying crunch. I recommend walnuts or almond slivers.
– Try some lemon extract to give the muffins a boost of flavor – about 1 tsp.
Make it Healthy – Replacing the sugar in the batter with granulated sweetener will ensure your muffins are sugar free and purely a starch food.
Enjoy
…
More Cranberry Recipes
– Top Recipes
– Cranberry Lemon Muffins
– Cranberry Orange Muffins
– Cranberry Raspberry Muffins
– Keto Cranberry Muffins
– Cranberry Blueberry Muffins
…