Ingredients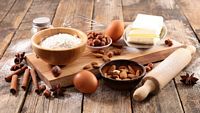 2 1/2 cups Almond flour
1/2 cup granulated sweetener
1 1/2 teaspoon baking powder
1/3 cup Coconut oil
1/3 cup Unsweetened almond milk
3 large Eggs
1/2 tsp Vanilla extract
3/4 cup fresh cranberries
Directions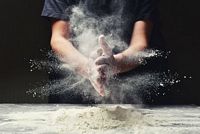 Mix together all ingredients and pour batter into greased, or paper muffin cup filled muffin tins.
Bake at 350 for 15-20 minutes or until golden brown. Cool and serve.
…
Notes & Options:
There are lots of ways to modify these cranberry muffins to spice them up, down or just change it to suit your palate. You can try:
– Using melted butter or vegetable oil in place of the coconut oil if you don't have any around, or simply prefer the taste of butter.
– Erythritol can be used in place of granulated sweetener.
– Or you can simply add in other berries like blueberries and strawberries to add some extra sweetness while still keeping it Keto.
Why it's Healthy – Recipes generally use sugar and wheat flour as their main staple ingredients. Replacing the sugar with granulated sweetener and the flour for almond flour eliminates any carbohydrate from the recipe and keeps your insulin levels low, which is what helps us lose weight and stay healthy..
Enjoy
…
More Cranberry Recipes
– Top Recipes
– Cranberry Bread
– Cranberry Chocolate Chip Cookies
– Cranberry Pancakes
– Cranberry Pound Cake
– Cranberry Crumble
…