Ingredients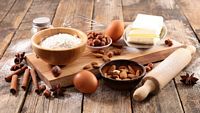 2 cups fresh or frozen cranberries
¾ cup white sugar
2 tablespoons orange zest
1 ½ cups all-purpose flour
1 ½ cups rolled oats
1 cup brown sugar
1 teaspoon baking powder
¾ cup room temperature butter
Directions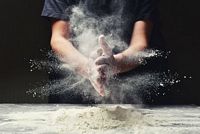 In a medium saucepan, mix together cranberries, sugar and zest. Boil and reduce on low until you have 1 cup of mixture.
Grease a 9×9 inch baking pan, then pre-heat oven to 350 degrees F.
In a medium bowl, stir together the flour, oats, brown sugar and baking powder. Add in butter and mix until it's crumbly.
Take half the mixture and press into the greased baking pan. Pour the cranberry mixture evenly over it. Then crumble the rest of the oat mixture over top.
Bake for 10-15 minutes or until golden brown. Cool and then cut into squares.
…
Notes & Options:
There are lots of ways to modify these cranberry bars to spice them up, down or just change it to suit your palate. You can try:
– Using fresh cranberries is always best but they can be a bit tart which is why we add sugar to the sauce portion of the recipe. Some people find the sugar in the crumble is enough and prefer to use almost pure cranberries (+ zest) for the middle. It depends on your sugar preference really.
– Add some cinnamon to give these squares a holiday, spicy feel.
– On top of the cinnamon, add in some ginger and nutmeg to make it spicier.
Make it Healthy – Replacing the sugar with granulated sweetener in both cases will ensure your squares are sugar free and purely a grain food.
Enjoy
…
More Cranberry Recipes
– Top Recipes
– Cranberry Bread
– Cranberry Chocolate Chip Cookies
– Cranberry Oatmeal Cookies
– Simple Cranberry Cookies
– Cranberry Almond Balls
…