Cranberry breads are timeless. This is a simple recipe that combines poppy seeds and dried cranberries, items easily found in one's pantry. If you follow the recipe you'll see that it's not that difficult to make but still has flavor without too much added sugar, leaving you feeling satisfied without that sugar crash people get when they eat dessert. Another good cran recipe if you like this type of dessert is the cranberry muesli post which features seeds and dried crans, just like this recipe. Good to eat any time of year. Now, back to the loaf; this recipe is pretty straightforward and will become a staple in your home if you like to have your desserts be both tasty AND healthy (as much as possible anyway).

Ingredients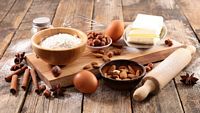 2 cups flour
1/2 cup sugar
1/2 tsp salt
2 1/2 tsp baking powder
2 eggs
3/4 cup milk
1/2 cup soft butter
1/2 cup dried cranberries
1/4 cup poppy seeds
1/2 of a lemon (juiced)
Directions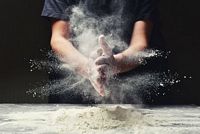 Combine the poppy seeds and milk in a small bowl and soak for 30 minutes.
Preheat an oven to 350° and grease a 9 × 5 inch loaf pan.
In a large bowl, combine the butter, sugar and 1 egg. Beat well with an electric hand mixture. Now add the other egg and lemon juice and beat until smooth. Stir in the poppy seeds and milk.
In a medium bowl, combine the flour, baking powder, salt and dried berries and stir until combined. Transfer to the wet ingredients and stir until just moistened. Pour into the prepared pan and bake for about 1 hour or until a cake tester comes out clean. Cool on a wire rack for ten minutes and remove from the pan. Serve warm or at room temperature.
Makes 1 9-inch loaf
…
Notes & Options:
There are lots of ways to modify this bread to spice it up, down or just change it to suit your palate. You can try:
– Using fresh cranberries is always best but if you can't then frozen work just as well.
– Add some extra nuts to the batter gives this loaf a satisfying crunch. I recommend walnuts or almond pieces.
– Brushing the top of the loaf (before it goes into the oven) with melted butter and sugar makes it a tad more appealing to the eye, AND to that first bite.
Make it Healthy – Replacing the sugar in the batter with granulated sweetener will ensure your loaf is sugar free and purely a starch food. Like eating fruit and bread – much healthier.
Enjoy
…
More Cranberry Recipes
– Top Recipes
– Cranberry Pumpkin Bread
– Whole Grain Cranberry Bread
– Simple Cranberry Pound Cake
– Cranberry Walnut Bread
– Cranberry Orange Loaf
…