Ingredients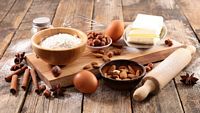 1/2 cup pitted dates
1/2 cup dried cranberries
1/2 cup oats
1/2 cup almonds
Directions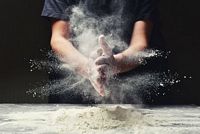 Combine all of the ingredients in a food processor and process until it forms a thick paste.
Using about a tablespoon of the mixture, roll into balls and place onto parchment paper.
Refrigerate for a few hours and serve.
…
Notes & Options:
There are lots of ways to modify these cranberry balls to spice them up, down or just change it to suit your palate. You can try:
– Using fresh cranberries instead of the dry, and then adding in some sweetener to make it sweeter. Dried cranberries are already sweet but if you prefer the taste of fresh berries then you can add in the sweetener. Or, use a bit of both, fresh and dried.
– Add more cinnamon to give it a holiday, spicy feel.
Enjoy
…
More Cranberry Recipes
– Top Recipes
– Cranberry Bread
– Cranberry Chocolate Chip Cookies
– Cranberry Pancakes
– Cranberry Pound Cake
– Cranberry Crumble
…