…
For 2 loaves.
Pumpkin Cranberry Bread. I know you're sold already!
Like me, you would be with any recipe that has cranberries and ends in the word loaf or bread. It's genetic in us cranberry lovers and there's nothing we can do about that so why try? Just bake and enjoy …

Ingredients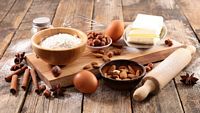 3 cups flour
3 cups sugar
1 1/2 tsp salt
2 tsp baking powder
1 1/2 TBSP pumpkin pie spice
4 eggs
1 tsp vanilla
1 can (15 oz) pure pumpkin
1 cup vegetable oil
1/2 cup orange juice
1 cups fresh, dried or frozen cranberries
Directions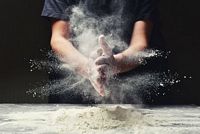 Preheat oven to 350F. Grease 2 9 by 5 inch loaf pans.
Combine dry ingredients together in a large bowl. Then take a medium sized bowl and beat eggs, oil, juice together, pour into dry ingredients bowl and stir well. Add cranberries and mix.
Pour batter into both pans.
Bake for approximately 1 hour.
…
Notes & Options:
There are lots of ways to modify this cranberry bread to spice it up, down or just change it to suit your palate. You can try:
– Using fresh cranberries is always best but if you can't then frozen work just as well.
– Add some extra nuts to the batter gives this loaf a satisfying crunch. I recommend walnuts or almond pieces.
– Brushing the top of the loaf (before it goes into the oven) with melted butter and sugar makes it a tad more appealing to the eye, AND to that first bite.
Make it Healthy – Replacing the sugar in the batter with granulated sweetener will ensure your loaf is sugar free and purely a starch food. Like eating fruit and bread – much healthier.
Enjoy
…
More Cranberry Recipes
– Top Recipes
– Cranberry Pumpkin Bread
– Cranberry Coffee Cake
– Simple Cranberry Pound Cake
– Cranberry Walnut Bread
– Cranberry Orange Loaf
…