Ingredients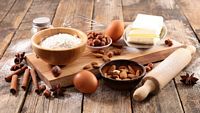 1 refrigerated pie crust (or make your own fresh)
2 cups fresh cranberries
1 large egg white
2 tablespoons flour
2 tablespoons brown sugar
1/2 cup orange marmalade
1 tablespoon white sugar
Directions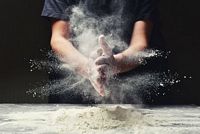 Set oven to 425 and line a baking sheet with quality parchment paper.
Mix marmalade, flour, brown sugar, and cranberries in a medium sized bowl.
Put pie crust on the baking sheet and spread the cranberry mixture into the middle. Keep 2″ margin from the end of the crust so mixture is only in the middle.
Fold the crust over in 2″ sections, making overlapping folds as you go.
Brush with egg white, then sprinkle with white sugar.
Bake for 20-22 minutes until golden brown.
…
Notes & Options:
There are lots of ways to modify this cranberry galette to spice it up, down or just change it to suit your palate. You can try:
– Adding nuts to make it crunchier. Use walnut pieces or chopped almonds and sprinkle them in with the cranberries before pouring the mixture into the crust.
– Add 1/2 tsp each of nutmeg and ginger if you want it holiday spicy-like.
– Make it a cheesecake galette! Add in 2 packages of softened cream cheese to make a cranberry cream cheese filling.
– Fresh berries are always best, but frozen ones work just as well as long as you thaw them and drain the excess cranberry juice first.
Enjoy
…
More Cranberry Recipes
– Top Recipes
– Cranberry Bread
– Cranberry Curd
– Cranberry Upside Down Pumpkin
– Baked Camembert with Cranberries
– Brie w/ Cranberry Chutney
…