Ingredients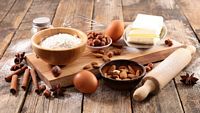 1 cup canned pumpkin
1 cup fresh cranberries (or frozen)
1 cup sugar
1/2 cup milk
2 eggs
1/4 cup butter (melted)
2 cups flour
2 tsp baking powder
1/2 tsp baking soda
1 tsp cinnamon
Directions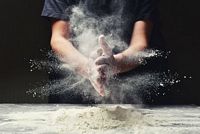 In a bowl, mix pumpkin, sugar, milk, eggs and butter.
Combine dry ingredients in another bowl, mix well and add to wet mixture. Add walnuts and cranberries.
Grease a loaf pan (9×5 inch) and bake at 350 for 70 minutes.
Cool and serve.
…
Notes & Options:
There are lots of ways to modify this loaf or cranberry bread to spice it up, down or just change it to suit your palate. You can try:
– Adding chocolate chips (white or dark) or raisins to make it sweeter. Using dry cranberries instead of fresh fulfills this function as well.
– Add 1/2 tsp each of nutmeg and ginger if you want it holiday spicy-like.
– Half the cranberries and walnuts as some people find a whole cup of each too much. They prefer a higher bread-to-berry ratio.
– Omit the cranberries and instead use a fresh, homemade cranberry topping to top the sliced bread with.
Make it Healthy – Replacing the sugar with granulated sweetener and make sure the canned pumpkin has no added sugar. Replacing this one ingredient will turn this recipe into a healthy, sugar-free bread instead of a dessert.
Make it Vegan – Replace the milk with almond milk, the butter with vegan butter or applesauce and the eggs with egg substitute powders or mashed bananas.
Enjoy
…
More Cranberry Recipes
– Top Recipes
– Cranberry Bread
– Cranberry Orange Bread
– Cranberry Walnut Bread
– Cranberry Pound Cake
– Cranberry Crumble
…