Ingredients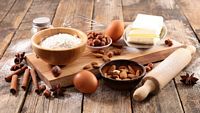 1 1/2 cups graham cracker crumbs (crust)
1/3 cup melted butter (crust)
1/4 cup sugar (crust)
8 oz soft cream cheese
1 can sweetened condensed milk
1/4 cup lemon or orange juice
4 eggs
1-1/2 cups fresh or frozen cranberries
1 teaspoon grated orange (or lemon) zest
Directions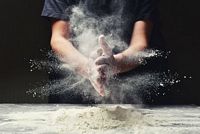 Grease 9-in. spring-form pan. Combine crust ingredients above and press onto bottom of pan.
In a large bowl, beat cream cheese, condensed milk, lemon juice and eggs.
Add in cranberries and orange/lemon zest. Pour filling over crust and place pan on a baking sheet.
Bake at 325° for 60-70 minutes or until center is almost set. Cool for 1 hour on counter top. Then cool 6 + hours in refrigerator.
…
Notes & Options:
Optional: Top with our famous cranberry dessert topping which can be found here.
– The most common citrus flavor for this cheesecake is usually lemon but orange is a close second and just as good. If you're feeling adventurous you can even try lime which works well with the cranberry topping.
– Add cinnamon to the crust if you want it to have a holiday feel.
– Fresh cranberries work best followed by frozen. Do not use dry cranberries in this recipe as they will act more like raisins than fruit.
Make it Healthy – Replacing the sugar with granulated sweetener and using your own, homemade keto-friendly condensed milk will turn this recipe into a healthy, sugar-free keto food instead of a dessert. Meaning it's a great weight loss food.
Enjoy
…
More Cranberry Recipes
– Top Recipes
– Cranberry Bread
– Brandied Cranberry Cheesecake Recipe
– Lemon Cranberry Cheesecake
– Cranberry Pound Cake
– Cranberry Crumble
…