Ingredients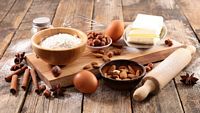 2 TBSP melted butter
2 cups fresh cranberries (or frozen)
1/2 cup brown sugar
2 eggs
3/4 cup unsweetened pumpkin purée
2 TBSP oil
1 1/2 cups flour
1 cup white sugar
1 1/2 tsp baking powder
1 tsp cinnamon
1/4 tsp salt
Directions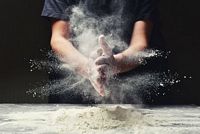 Preheat oven to 350° and grease or spray 9 inch round cake pan.
Pour melted butter into pan and coat evenly, then sprinkle in brown sugar and cranberries.
In a mixing bowl,, stir in eggs, oil and pumpkin purée.
Mix in the dry ingredients and pour into cake pan GENTLY, so as not to move the cranberries around too much.
Bake 35 to 45 minutes or until a toothpick comes out clean. Cool and serve when ready.
…
Notes & Options:
There are lots of ways to modify this cranberry cake to spice it up, down or just change it to suit your palate. You can try:
– Adding nuts to make it crunchier. Use walnut pieces or chopped almonds and sprinkle them in with the cranberries before pouring the batter into the pan.
– Add 1/2 tsp each of nutmeg and ginger if you want it holiday spicy-like.
– Half the cranberries if you find them too tart, although that's what most people like about using fresh cranberries, the tartness combined with sweet.
– Fresh berries are always best, but frozen ones work just as well as long as you thaw them and drain the excess cranberry juice first.
Make it Healthy – Replace the sugars with granulated sweetener. Replacing this one ingredient (sugar) will turn this recipe into a healthy, sugar-free delight instead of a dessert.
Enjoy
…
More Cranberry Recipes
– Top Recipes
– Cranberry Bread
– Cranberry Christmas Cake with Walnuts
– Cranberry Pie Recipe
– Cranberry Bundt Cake
– Brandied Cranberry Cheesecake Recipe
…