Ingredients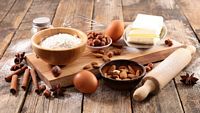 4 cups flour
1/3 cup flour (extra portion)
1 cup softened butter
1/4 cup sugar
2 tsp active dry yeast
1 1/4 cups milk
1 egg
1 tsp salt
1 cup cranberry topping/filling (see below)
1/2 tsp almond extract
1/2 tsp lemon extract
1 egg white (beaten)
Directions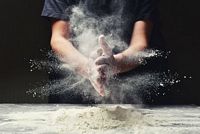 Cream butter and 1/3 cup flour in a bowl. Divide into 2 equal parts, then roll each half between 2 pieces of waxed paper into a 6×12-inch sheet. Chill butter sheets in the refrigerator.
Mix 1 1/2 cups flour with active dry yeast in a mixing bowl; set aside.
Stir together milk, sugar, and salt in a small saucepan over medium heat. Heat until warm, but not hot to the touch, about 115 degrees F (43 degrees C).
Pour warm milk mixture over flour mixture. Add eggs, lemon extract, and almond extract. Stir for 3 minutes. Knead in remaining flour, 1/2 cup at a time, until dough is firm and pliable. Cover and let rise at room temperature until doubled in size, 30 minutes to 1 hour.
Cut dough in half. Roll each half out to a 14-inch square. Place one cold butter sheet over half of each dough square, off to one side, then fold dough over butter sheet like the cover of a book. Pinch the edges of dough together with your fingers.
Roll each piece out to a 20×12-inch rectangle. Fold into thirds like a letter. Repeat rolling and folding one more time. Wrap in plastic and refrigerate for at least 30 minutes.
Roll and fold each piece of dough two more times. Wrap in plastic and refrigerate for at least 30 minutes.
Roll dough out to 1/4-inch thickness. Cut dough into circles. Place a big spoon of cranberry filling in the center (see recipe for tasty, natural filling here). Fold 2 opposite corners over the center to form a filled round shape. Place danishes on an ungreased baking sheet. Allow to rise at room temperature until doubled in size, about 30 minutes.
Preheat the oven to 450 degrees. Brush beaten egg white over pastries.
Bake until the bottoms are golden brown, 8 to 10 minutes.
…
Notes & Options:
There are lots of ways to modify this cranberry Danish recipe to spice it up, down or just change it to suit your palate. You can try:
– Adding in nuts such as walnuts or almonds to the filling to make it crunchier. Use walnut pieces (or chopped pine nuts even) and sprinkle them in with the cranberry filling before pouring the mixture into the pastry.
– Use a bit less flour (by up to 1/2 cup) if you prefer the pastry to be a little more moist.
– This recipe is sweet. If you'd prefer a more tart taste, so that the cranberries 'shine' more then you can substitute the sugar for sweetener in both the pastry AND filling, or even cut some of it back altogether.
– Fresh berries are always best for the filling, but frozen ones work just as well as long as you thaw them and drain the excess cranberry juice first.
Enjoy
…
More Cranberry Recipes
– Top Recipes
– Cranberry Bread
– Cranberry Rice Pudding
– Cranberry Topping
– Cranberry Coffee Cake
– Cranberry Galette
– Easy Cranberry Jam
– Cranberry Sauce Thickening Tips
…