Ingredients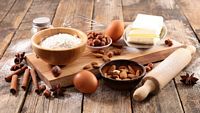 8 oz crescent rolls dough (store bought)
8 oz brie wheel
1 cup cranberry sauce (recipe here)
Fresh thyme
Directions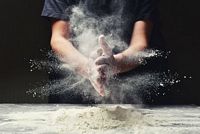 Preheat oven to 375°F degrees. Spray a mini muffin tin with cooking spray (or grease).
Spread some flour out onto your counter. Then roll out crescent dough sheet. If using crescent rolls, pinch the seams together to make one long sheet.
Cut crescent roll dough into 24 equal-sized squares. Place squares into muffin tin slots.
Cut brie into small pieces and place inside the crescent dough squares. Top with a good spoonful of cranberry sauce, and a little sprig of thyme.
Bake until the crescent dough is a light golden brown (about 15 minutes). Then serve warm.
…
Notes & Options:
There are lots of ways to modify this cranberry brie bite recipe to spice it up, down or just change it to suit your palate. You can try:
– Adding in nuts such as walnuts or almonds to the filling to make it crunchier. Use walnut pieces (or chopped pine nuts even) and sprinkle them in with the cranberry filling before pouring the mixture onto the pastry/crust.
– Add some rosemary instead of thyme to flavor this popular appetizer.
– This recipe is mildly sweet. If you'd prefer a more tart taste, so that the cranberries 'shine' more then you can substitute the sugar for sweetener in the sauce if you are making it yourself, or simply cut some of it back altogether.
– Fresh berries are always best for the sauce, but frozen ones work just as well as long as you thaw them and drain the excess cranberry juice first.
Enjoy
…
More Cranberry Recipes
– Top Recipes
– Cranberry Brie w/ Chutney
– Cranberry Galette
– Baked Cranberry Camembert
– Cranberry Sandwich
– Cranberry Pie (Pure)
– Danish Cranberry Pastry
– Cranberry Meringue
…