Ingredients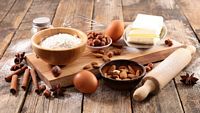 2 cups flour
1 TBSP soda
1 cup sugar
3 TBSP melted butter
1 cup milk
2 eggs
3 cups fresh cranberries
Directions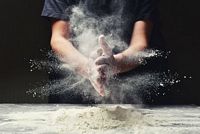 Preheat oven to 350 degrees F (175 degrees C). Grease a 9-inch, round baking dish.
Beat sugar, eggs, and melted butter with a whisk until well mixed.
Stir in the rest of the ingredients, keeping some cranberries for later.
Pour mixture into pan, bake for 30 mins or until toothpick comes out clean.
Optional: Heat up the rest of the cranberries and sprinkle them on top of the already baked cake with a dusting of sugar.
Enjoy
…
More Cranberry Recipes
– Top Recipes
– Lemon Cranberry Cheesecake
– Cranberry Tart Recipe
– Apple Cranberry Crumble Pie
– Apple Cranberry Pie
…