Ingredients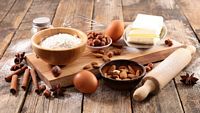 2 3/4 cups flour
½ cup butter (cut into pieces)
1 TBSP baking powder
¼ cup sugar
1 1/2 cups fresh cranberries
1/2 cup raisins
¾ cup cream
2 eggs
Directions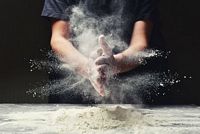 Preheat oven to 400°F.
Mix flour, butter, baking powder and sugar together until crumbly.
Add fresh cranberries, raisins, eggs and cream, and mix for 15 seconds.
Knead dough and form into 8 large ovals.
Place ovals on a baking sheet lined with parchment paper. Brush ovals with cream, then sprinkle with sugar.
Bake for 25-30 minutes until golden and baked through.
Enjoy
…
More Cranberry Recipes
– Top Recipes
– Lemon Cranberry Cheesecake
– Cranberry Tart Recipe
– Apple Cranberry Crumble Pie
– Apple Cranberry Pie
– Cranberry Crumble
…