Ingredients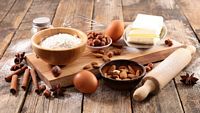 1 Flaky Pastry for 9-inch double pie (store bought)
1 cup fresh cranberries (or frozen)
3 cups frozen sliced rhubarb
1 1/2 cups sugar
3 Tbsp. quick-cooking tapioca
1/2 tsp. ground cinnamon
Directions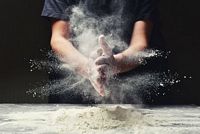 Prepare pie dough and fit loosely into 9-inch pie plate.
Mix rhubarb, cranberries, sugar, tapioca and cinnamon.
Spread fruit mixture in pie shell. Cover with remaining pie dough.
Heat oven to 425. Place pie on baking sheet in oven. Bake 10 minutes.
Reduce heat to 375, bake 35 to 40 minutes longer until filling is bubbly and crust is golden brown. Serve warm.
…
Notes & Options:
There are lots of ways to modify this cranberry pie to spice it up, down or just change it to suit your palate. You can try:
– Adding dried cranberries to make it sweeter. Using dry cranberries instead of fresh fulfills this function well.
– Add 1/2 tsp each of nutmeg and ginger if you want it holiday spicy-like.
– Half the cranberries if you find them too tart, although that's what most people like about using fresh cranberries, the tartness combined with sweet.
– Omit the cranberries and instead use a fresh, homemade cranberry topping to top the sliced bread with.
Make it Healthy – Replace the sugar with granulated sweetener and make your own low carb pie crust instead of the store bought one. Replacing this one ingredient (sugar) will turn this recipe into a healthy, sugar-free snack instead of a dessert.
Enjoy
…
More Cranberry Recipes
– Top Recipes
– Cranberry Bread
– Apple Cranberry Pie w/ Crumble
– Cranberry Pie Recipe
– Apple Cranberry Pie Recipe
– Cranberry Crumble
…