This is something classic with something new. A simple cranberry recipe that combines a traditional type loaf with a streusal toppin which can be made with items easily found in one's pantry. If you follow the recipe you'll see that it's not that difficult to make but still looks complicated enough to impress people. Another good cran recipe if you like this type of dessert is the cranberry pistachio biscotti post which features more nuts and cranberry combinations, just like this recipe. Good to eat any time of year. Now, back to the streusal; this recipe is pretty straightforward and will become a staple in your home if you like to have your desserts be both tasty AND healthy (as much as possible anyway).

Ingredients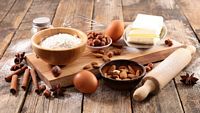 2 cups flour
3/4 cup sugar
1/2 tsp salt
1 1/2 tsp baking powder
1/2 tsp each of nutmeg and all spice
1 egg
3/4 cup orange juice
3 TBSP soft butter
2 TBSP orange zest (grated)
1 cup fresh cranberries
1/2 cup fresh or canned pear (cut into small pieces)
1/2 cup raisins

Streusal

1/3 cup packed brown sugar
3 TBSP flour
2 TBSP butter (cold)
3/4 cup chopped pecans
Directions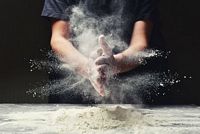 In a bowl, combine brown sugar and flour. Cut in butter until crumbly. Stir in pecans; set aside.
In a large bowl, combine the flour, sugar, baking powder, nutmeg, allspice and salt. In another bowl, whisk the egg, orange juice, butter and orange zest. Stir into dry ingredients just until moistened. Fold in cranberries, pear and raisins.
Transfer half of the batter to a greased 9×5-in. loaf pan. Sprinkle with half of the streusel; repeat layers.
Bake at 350° for 65-70 minutes or until a toothpick inserted in the center comes out clean. Cool for 10 minutes before removing from pan to a wire rack.
…
Notes & Options:
There are lots of ways to modify this cranberry streusal loaf to spice it up, down or just change it to suit your palate. You can try:
– Using fresh cranberries is always best but if you can't then frozen work just as well.
– Add some extra nuts to the topping. I recommend something light like almond slivers.
– Brushing the top of the loaf (before it goes into the oven) with melted butter and (a tad more) sugar makes it a more attractive bread, AND really gives your taste buds a burst of flavor on the initial bite, before the taste of cranberries kicks in later.
Make it Healthy – Replacing the sugar in the batter and topping with granulated sweetener will ensure your loaf is sugar free and purely a starch food. Like eating fruit and bread – much healthier.
Enjoy
…
More Cranberry Recipes
– Top Recipes
– Cranberry Clafouti
– Cranberry Galette
– Cranberry Meringue Pie
– Cranberry Pistachio Biscotti
– Pork Schnitzel with Cranberry Sauce
…