Ingredients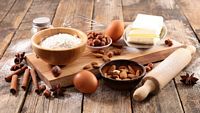 1 12oz bag of fresh cranberries
1 cup sugar
1 large apple peeled, cored, diced
1 TBSP lemon juice
Directions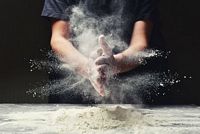 Place all ingredients into a saucepan and simmer over medium heat.
Reduce to low cover and simmer for an hour.
Pour cranberry mixture into a blender and puree until smooth.
Cool completely and transfer to a jar.
Refrigerate overnight.
…
Notes & Options:
There are lots of ways to modify this cranberry jam to spruce it up, down or just change it to suit your palate. You can try:
– Using an orange instead of the apple. Oranges are generally used in cranberry jam recipes but both are really good. Pears work well too.
– Add some spice; a 1/4 tsp each of allspice, nutmeg, and cloves, with a large pinch of cinnamon.
– The secret to a good jam is to let it sit overnight in the fridge before serving it. Homemade cranberry jam lasts about 6 weeks in the fridge.
– Using fresh lemon juice is preferred but store bought is fine too.
Make it Healthy – Replace the sugar with granulated sweetener in the homemade cranberry jam mixture. Replacing this one ingredient (sugar) will turn this recipe into a healthy, sugar-free snack instead of a sweet treat.
Enjoy
…
More Cranberry Recipes
– Top Recipes
– Rice Pudding w/ Cranberry Topping
– Cranberry Sauce w/ Orange Zest
– Spicy Cranberry Salsa
– Cranberry Curd
– Cranberry Chutney
…