Ingredients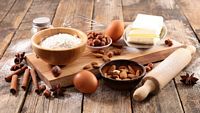 12 oz bag of fresh cranberries
3/4 cup of water
1/2 cup sugar
3 egg yolks
2 TBSP butter
Directions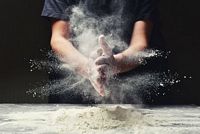 Put cranberries, water and sugar in a medium sauce pan and bring to boil on medium high heat. Reduce heat to simmer for 7-10 minutes or until berries have burst.
Pour mixture into a blender and blend until smooth.
Set aside 1/3 cup and pour the rest of the mixture into the saucepan on low heat.
Whisk egg yolks in a bowl and slowly add that 1/3 cup mixture to it.
Add mixture back into saucepan and continue whisking the entire, combined mixture until thickened (maybe 5 mins).
Add butter and make sure it's melted into the mixture.
Pour into a jar and allow to cool. Now it's ready to be used in tarts (see image) and in other cranberry recipes.
…
Notes & Options:
There are lots of ways to use cranberry curd. You can try:
– Using it as pie or tart filling.
– Pouring it over scones, rolls, pancakes, waffles.
– Adding it to your oatmeal or yogurt.
– Using it as an ice cream topping.
Make it Healthy – Replace the sugar with granulated sweetener in this sauce. Replacing this one ingredient (sugar) will turn this recipe into a healthy, sugar-free snack instead of a sweet treat. ***Note: Some people find 1/2 cup of sugar to be too little. Cranberries are naturally sour so feel free to adjust the quantity based on your preference.
Enjoy
…
More Cranberry Recipes
– Top Recipes
– Cranberry Baked Camembert
– Homemade Cranberry Dessert Topping
– Cranberry Pie Recipe
– Cranberry Upside Down Cake
– Cranberry Christmas Cake with Walnuts
…