Ingredients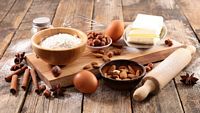 1 cup flour
2 cups fresh cranberries
1 cup sugar
2 eggs
1 cup milk
1/2 cup almonds
Directions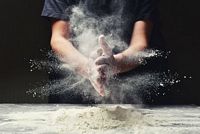 Grease a deep 9- or 10-inch pie plate or a gratin dish of similar size and pre-heat oven to 425 degrees.
Beat eggs and sugar until smooth. Add milk and stir.
Gently pulse cranberries and almonds in a food processor – just a few pulses (or chop coarsely).
Pour cranberries/almonds into pie dish. Add batter over top.
Bake for 30 minutes, or until a toothpick inserted into it comes out clean.
…
Notes & Options:
There are lots of ways to modify this cranberry clafouti to spice it up, down or just change it to suit your palate. You can try:
– Using walnuts instead of almonds to make it crunchier. Use walnut pieces (or chopped pine nuts even) and sprinkle them in with the cranberries before pouring the mixture into the pan.
– Use a bit less flour (1/2 – 3/4 cup) if you prefer it to be less dense.
– This recipe is sweet. If you'd prefer a more tart taste, so that the cranberries 'shine' more then you can cut the sugar back to 1/2 to 3/4 cup as well.
– Fresh berries are always best, but frozen ones work just as well as long as you thaw them and drain the excess cranberry juice first.
Enjoy
…
More Cranberry Recipes
– Top Recipes
– Cranberry Bread
– Cranberry Rice Pudding
– Cranberry Topping
– Cranberry Coffee Cake
– Cranberry Galette
– Easy Cranberry Jam
– Cranberry Sauce Thickening Tips
…