Ingredients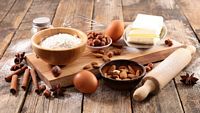 1 cup flour
2 cups fresh cranberries
1 cup sugar
2 eggs
1 1/2 tsp baking soda
1/2 cup melted butter
1 tsp vanilla or almond extract
Optional topping
¼ cup chopped walnuts
¼ cup brown sugar
2 tablespoons butter
2 tablespoons flour
Directions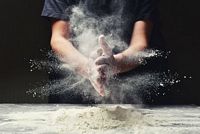 Grease a 9-inch square baking pan and pre-heat oven to 350 degrees.
Combine flour, baking soda, sugar and cranberries in a medium sized bowl.
Mix in the eggs, butter and extract and pour batter into pan.
Topping: Mix the 4 streusel topping ingredients together and pour over the mixture already in the greased pan.
Bake for 45 minutes or until a toothpick comes out clean.
…
Notes & Options:
There are lots of ways to modify this cranberry coffee cake to spice it up, down or just change it to suit your palate. You can try:
– Adding walnuts to make it crunchier. Use walnut pieces or chopped almonds and sprinkle them in with the cranberries before pouring the mixture into the pan.
– Add 1/2 tsp each of nutmeg and ginger if you want it holiday spicy-like.
– This recipe is cranberry rich. If you'd prefer a higher cake-to-fruit ratio you can half the amount of cranberries to 1 cup instead.
– Fresh berries are always best, but frozen ones work just as well as long as you thaw them and drain the excess cranberry juice first.
Enjoy
…
More Cranberry Recipes
– Top Recipes
– Cranberry Bread
– Your Cranberry Cake
– Cranberry Upside Down Pumpkin
– Cranberry Christmas Cake
– Cranberry Bundt Cake
– Easy Cranberry Cake
– Cranberry Pound Cake
…