…
Cranberry coffee cake. Who needs the coffee?
After this moist cake with a cranberry swirl comes out of the oven, serve it with a scoop of vanilla ice cream or just enjoy it on its' own merit. No need to share.

Ingredients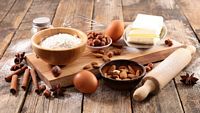 2 cups flour
1 3/4 cup sugar
1/2 tsp salt
2 tsp baking powder
1 tsp vanilla
2 eggs
1 stick soft butter
1/2 cup milk
2 cups fresh cranberries
Directions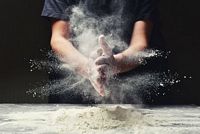 Preheat oven to 350F. Grease a 9 by 5 inch loaf pan.
Pulse cranberries with sugar in a food processor until finely chopped.
Mix dry ingredients together in a bowl. Add eggs, vanilla, soft butter and mix well.
Mix milk in a bit at a time until well combined. Pour batter into pan.
Spoon/swirl cran/sugar mixture into batter.
Bake for 50 minutes to an hour. Toothpick must come out clean.
…
Notes & Options:
There are lots of ways to modify this cake loaf to spice it up, down or just change it to suit your palate. You can try:
– Using fresh cranberries is always best but if you can't then frozen work just as well.
– Add some extra nuts to the batter gives this loaf a satisfying crunch. I recommend walnuts or almond pieces.
– Brushing the top of the loaf (before it goes into the oven) with melted butter and sugar makes it a tad more appealing to the eye, AND to that first bite.
Make it Healthy – Replacing the sugar in the batter with granulated sweetener will ensure your loaf is sugar free and purely a starch food. Like eating fruit and bread – much healthier.
Enjoy
…
More Cranberry Recipes
– Top Recipes
– Cranberry Pumpkin Bread
– Whole Grain Cranberry Bread
– Simple Cranberry Pound Cake
– Cranberry Walnut Bread
– Cranberry Orange Loaf
…