…
A great recipe for the holidays (cause you have time then).
Cranberry Bread Pudding. Lots of ingredients, get ready.
This was sent in by a reader and it has all of the usual suspects you'd find in a holiday dessert. Sugar, nutmeg, ginger and cranberries of course. Impress your guests. Just bake and enjoy …

Ingredients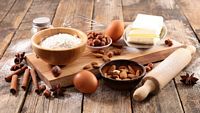 2 TBSP BUTTER
12-OZ PACKAGE SWEET EGG BREAD OR ROLLS
1/2 CUP SUGAR
2 TSPS CINNAMON
1 TSP NUTMEG
1/2 TSP GINGER
4 OZ WHITE CHOCOLATE, CHOPPED
1/2 CUP DRIED CRANBERRIES
2 EGGS
1 CUP MILK
2 CUPS HALF & HALF
1 TBSP VANILLA
11-OZ CAN CRANBERRY JELLY
2 TBSP ORANGE MARMALADE
1 TBSP BALSAMIC VINEGAR
Directions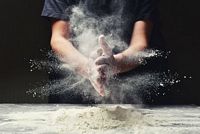 GREASE 4″ CROCKS WITH BUTTER. PLACE CROCKS IN LARGE CAKE PAN AND POUR WATER INTO PAN SO THERE IS 1″ OF WATER SURROUNDING CROCKS.
TEAR BREAD INTO BITE-SIZED PIECES AND PLACE ON A COOKIE SHEET. ALLOW BREAD TO DRY OUT FOR 1 HOUR OR LONGER. BREAD SHOULD FEEL TOASTED. DIVIDE BREAD BETWEEN CROCKS.
COMBINE SUGAR, CINNAMON, NUTMEG AND GINGER. SPOON MIXTURE INTO CROCKS OVER THE BREAD.
DIVIDE CRANBERRIES AND WHITE CHOCOLATE BETWEEN CROCKS.
N A LARGE BOWL, COMBINE EGGS AND MILK. DIVIDE MIXTURE BETWEEN CROCKS AND TOSS SLIGHTLY. POUR HALF & HALF INTO CROCKS AND PRESS DOWN ON BREAD IT IS ABSORBED. ALLOW MIXTURE TO SET FOR 20 MINUTES AND THEN BAKE AT 375 F FOR 45 TO 50 MINUTES. COVER TOPS OF CROCKS IF THEY START TO GET TOO BROWNED.

SAUCE:

PLACE JELLY IN SMALL SAUCE PAN OVER MEDIUM HEAT AND ADD MARMALADE. BRING TO A BOIL AND SIMMER FOR 2 OR 3 MINUTES. REMOVE FROM HEAT AND ADD VINEGAR.
TO SERVE: POUR SAUCE OVER WARM BREAD PUDDING.
…
Enjoy
…
More Cranberry Recipes
– Top Recipes
– Cranberry Bread Pudding
– Rice Pudding w/ Cranberry Topping
– Cranberry Fluff
– Cranberry Danish Pastry
– Cranberry Meringue Pie
…