Ingredients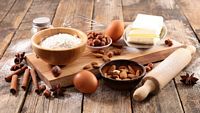 9″ store bought pastry (to match your pie dish)
4 cups fresh (or frozen) cranberries
3/4 cup water
2 cups sugar
4 egg yolks
2 TBSP flour
2 TBSP sugar
1/4 tsp salt
1/2 tsp almond extract
Meringue
4 egg whites
1/4 tsp cream of tartar
1 tsp vanilla
1/2 cup sugar
Directions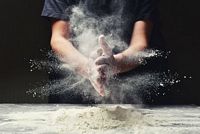 Transfer ready store bought pie crust to pie dish … or
… if it needs preparation proceed to roll it out to fit onto pie dish and flute the edges. Follow directions on package in that case.
In a large saucepan, combine the cranberries, sugar and water. Cook, stirring occasionally, over medium heat until berries pop, about 15 minutes. In a small bowl, combine the egg yolks, flour and salt. Remove cranberry mixture from the heat; stir a small amount into egg mixture. Return all to the pan, stirring constantly. Bring to a gentle boil; cook and stir 2 minutes. Remove from heat. Stir in butter and extract. Pour into crust.
Meringue – in a large bowl, beat the egg whites, cream of tartar and vanilla on medium speed until soft peaks form. Gradually beat in sugar, 1 tablespoon at a time, on high until stiff peaks form. Spread over hot filling, sealing edges to crust.
Bake at 350° until golden brown, 18-22 minutes. Cool on a wire rack for 1 hour; refrigerate for 1-2 hours before serving.
…
Notes & Options:
There are lots of ways to modify this cranberry meringue pie recipe to spice it up, down or just change it to suit your palate. You can try:
– Adding in nuts such as walnuts or almonds to the filling to make it crunchier. Use walnut pieces (or chopped pine nuts even) and sprinkle them in with the cranberry filling before pouring the mixture onto the pastry/crust.
– Add some cinnamon or spice to give it a holiday feel.
– This recipe is sweet. If you'd prefer a more tart taste, so that the cranberries 'shine' more then you can substitute the sugar for sweetener, or simply cut some of it back altogether.
– Fresh berries are always best for the filling, but frozen ones work just as well as long as you thaw them and drain the excess cranberry juice first.
Enjoy
…
More Cranberry Recipes
– Top Recipes
– Cranberry Rhubarb Pie
– Cranberry Rice Pudding
– Apple Cranberry Crumble
– Apple Cranberry Pie
– Cranberry Pie (Pure)
– Danish Cranberry Pastry
– Cranberry Turnover
…