Ingredients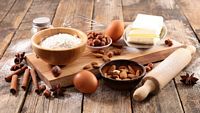 1 ¾ cups flour
3/4 cup sugar
1/4 cup oil
2 eggs
1 1/2 cups pistachios
2 tsp vanilla
1/2 tsp almond extract
1 tsp baking powder
1/2 cup dried cranberries
Directions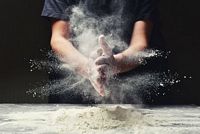 Line a cookie sheet with parchment paper.
Pre-heat oven to 350 degrees F.
Mix together sugar and oil in a medium bowl. Mix in vanilla and almond extracts, then beat in eggs.
Sift flour and baking powder together in a separate bowl. Slowly stir into egg mixture until combined. Mix in pistachios and cranberries.
Divide dough in half. Form each piece into a 12×2-inch log on the prepared cookie sheet. (Wet your hands if dough is sticky)
Bake until logs are light brown, approx 35 minutes (longer if need be, make sure it's light brown). Cool for 10 minutes.
Reduce oven temp to 275.
Cut logs on the diagonal into 3/4-inch-thick slices. Lay cookies cut-side down on the cookie sheet.
Bake cookies until dry, 8 to 10 minutes, or longer of need be as long as they are dry.
…
Notes & Options:
There are lots of ways to modify this cranberry biscotti recipe to spice it up, down or just change it to suit your palate. You can try:
– Adding in more/different nuts such as walnuts or almonds to the mix to make it crunchier. Use walnut pieces (or chopped pine nuts even) and sprinkle them in with the mixture at the end.
– Substitute the same amount of orange extract for almond extract to give the cookie much more flavor.
– This recipe is sweet. If you'd prefer a more tart taste, so that the cranberries 'shine' more then you can substitute the sugar for sweetener.
– This recipe uses dried cranberries but like I always say, fresh berries are always best, try them out once in awhile and see for yourself.
Enjoy
…
More Cranberry Recipes
– Top Recipes
– Cranberry Fluff
– Cranberry Bliss Bars
– Cranberry Oat Squares
– Cranberry Clafouti
– Cranberry Shortbread Cookies
– Cranberry Meringue
– Cranberry Curd
…