Ingredients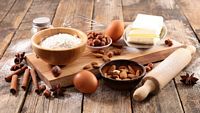 1 round Camembert cheese (9oz) in its' wooden box
1/2 cup fresh cranberries
Directions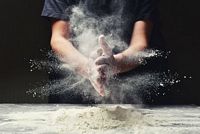 Preheat oven to 350F.
For Camembert, remove from box and slice the top of the wheel (make cuts) like you would a pizza but not too deep, maybe 1/2 inch or so.
Place the wheel back in its' wooden box and place on a baking sheet, then top with the cranberries.
Bake for 12-15 minutes, or until the top of the cheese becomes soft.
Take wooden box off baking sheet and place onto a serving plate with fruit and crackers.
…
Notes & Options:
There are lots of ways to modify this baked Camembert cranberry dish to spice it up, down or just change it to suit your palate. You can try:
– Add some nuts or a sprinkle of sugar on top before baking.
– Use a homemade cranberry sauce or chutney in place of fresh cranberries. The fresh cranberries will melt and soften in the oven on their own but sauces will be softer and have more flavor.
– Add in orange zest to make the cheese more festive.
Make it Healthy – Replace the optional sugar sprinkle with granulated sweetener. Replacing this one ingredient (sugar) will turn this recipe into a healthy, holiday appetizer instead of a sweet treat.
Enjoy
…
More Cranberry Recipes
– Top Recipes
– Cranberry Bread
– Baked Brie with Cranberry Chutney
– Cranberry Pie Recipe
– Cranberry Chutney
– Cranberry Christmas Cake with Walnuts
…