Ingredients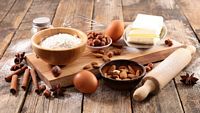 1/4 Cup Water (for puree)
12 oz Fresh Cranberries (for puree)
2 Tb Orange Juice (for puree)
1½ Cups Heavy Cream
1½ Cups Whole Milk
1 Cup Sugar
Directions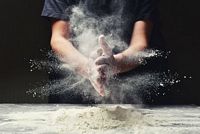 Over medium heat – cook the puree ingredients for 6-7 minutes. Cool and blend in a blender or food processor. Makes 1 1/4 cups.
In an ice cream maker, churn milk, cream, sugar and puree according to the instructions provided by the manufacturer.
Freeze for at least 4-6 hours and enjoy.
…
Notes & Options:
A few notes:
Make it Healthy – Replacing the sugar with granulated sweetener in the ice cream recipe to ensure your dessert is sugar-free and has minimal carbs.
Enjoy
…
More Cranberry Recipes
– Top Recipes
– Cranberry Bread
– Creamy Cranberry Yogurt Delight
– Citrus Cranberry Cheesecake
– Apple Cranberry Pie Recipe
– Cranberry Crumble
…