…
This recipe has too many words in the title.
Lemon Cranberry, Banana Bundt Cake. Much easier than it sounds.
When reading the title of this recipe one can picture something complex involving lots of bowls, pans, appliances, and the dreaded clean up. It's actually pretty simple and rewardingly tasty. Give it a shot. Just bake and enjoy …

Ingredients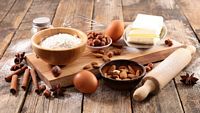 3 ripe bananas, mashed
2 cups of flour
1/4 cup sugar
1 tsp baking soda
1/4 tsp salt
2 eggs
1 stick melted butter
1 1/2 TBSP milk
1 tsp vanilla
1 TBSP lemon zest
1/2 cup fresh cranberries
Directions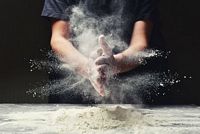 Mash three ripe bananas in a bowl.
Mix all the dry ingredients in a bowl.
Mix all the wet ingredients in a bowl and whisk. Incorporate the mashed bananas and the wet ingredients together. Add the dry ingredients to the bowl (add 1/3 each time so they can mix well). Add lemon zest and cranberries in the batter. Mix well.
Transfer the batter to a small Bundt pan.
Bake at 350℉ for one hour.
…
Enjoy
…
More Cranberry Recipes
– Top Recipes
– Cranberry Orange Bundt
– Cranberry Bundt Cake
– Wheat Flour Cranberry Cake
– Cranberry Coffee Cake
– Your Cranberry Cake
…