…
A new twist on something old.
Wheat Flour Cranberry Cake. More dense and compact.
This was a neat little recipe. We've all had a cranberry loaf or bread or cake but not with sprouted wheat flour before. You may find that this is a new favorite for you. Just bake and enjoy …

Ingredients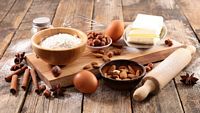 2/3 c. thin yogurt (or buttermilk)
6 T. butter, melted and cooled slightly
3/4 c. maple syrup
zest of one orange (or lemon)
1 egg, lightly beaten
2 c. sprouted soft wheat flour
1 t. baking powder
1/2 t. baking soda
1 t. kosher salt
6 oz. cranberries (about 1 1 /2 c.), coarsely chopped (I use a food processor)
1/2 c. toasted pecans or walnuts
Directions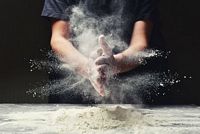 Preheat oven to 375. Dip a pastry brush in the melted butter, and coat the inside of a standard size loaf pan.
Stir together yogurt (or buttermilk), maple syrup, orange zest, melted butter, and egg.
In a large bowl, whisk together the flour, baking powder, baking soda, salt. Add the wet ingredients, and stir gently just to combine using a rubber spatula. Fold in the cranberries and nuts, and spread into prepared pan – being sure to spread it well into the corners.
Bake at 375 for 15 minutes, then lower the heat to 350 and continue baking for 45-55 minutes until the top is deep golden brown and a tester comes out mostly clean. (I'll try baking this next time at a lower temperature throughout the whole baking time.) If the loaf appears to be darkening too fast during baking, tent it with foil.
Remove from oven, let stand in the pan on a wire rack for 10 minutes before removing from pan to cool completely before slicing.
…
Enjoy
…
More Cranberry Recipes
– Top Recipes
– Cranberry Pancakes
– Cranberry Coffee Cake
– Easy Cranberry Cake
– Cranberry Bundt Cake
– Brandied Cranberry Cheesecake
…