This is a cake that is vegan but moist and delicious enough that nobody will notice. If you'd prefer a non-vegan recipe click the cranberry Bundt cake link here.

Ingredients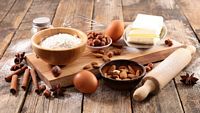 2 2/3 cups flour
1 1/4 cups sugar
1/2 tsp salt
1 tsp baking powder
1/2 tsp baking soda
1 cup almond milk
1/2 cup orange juice
1/3 cup coconut oil (melted)
1/3 cup apple sauce
1 TBSP orange zest (grated)
2 TBSP ground flax seeds
1 1/2 cups fresh cranberries (chopped)
1 TBSP Cornstarch
1 TBSP vanilla
Directions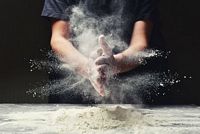 Preheat oven to 350 degrees F. Lightly grease a cake, Bundt pan.
Whisk together milk, zest, juice, oil, applesauce, flax seeds, and cornstarch in a large bowl. Add sugar and whisk until well combined, then whisk in vanilla.
Add dry ingredients to a separate bowl and mix. Fold in cranberries and stir. Add to batter and combine well. Pour into greased pan.
Bake until top is puffed and firm to touch, cake starts to pull away from pan sides, and a wooden pick inserted near center comes out clean, 50 to 55 minutes. Cool in pan 10 minutes, then loosen cake with a small metal spatula, invert on a cooling rack, and cool completely, about 2 hours.
Optional: Dust with confectioners sugar once cool.
…
Notes & Options:
There are lots of ways to modify this cranberry Bundt cake to spice it up, down or just change it to suit your palate. You can try:
– Using fresh cranberries is always best but if you can't then frozen work just as well.
– Add some nuts to the batter. I recommend something light like almond slivers.
– Try doubling the orange zest amount if you like orange flavor, it really goes well with cranberries.
Make it Healthy – Replacing the sugar in the batter and topping with granulated sweetener will ensure your Bundt is sugar free and purely a starch food. Like eating fruit and bread – much healthier.
Enjoy
…
More Cranberry Recipes
– Top Recipes
– Cranberry Clafouti
– Cranberry Coffee Cake
– Your Cranberry Cake
– Cranberry Pumpkin Upside Down Cake
– Cranberry Bundt Cake
…