Ingredients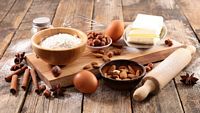 2 1/2 cups fresh or frozen cranberries
2 cups sugar
3/4 cup softened butter (1 1/2 sticks)
2 cups all-purpose flour
3 eggs
1 teaspoon vanilla
*** Optional Topping: Sliced almonds & confectioners sugar
Directions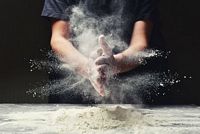 Lightly grease a 10-inch springform pan.
With a mixer or beaters, beat the eggs and sugar in a medium bowl. Add in the butter and vanilla and beat some more.
Add flour and cranberries and stir with a large spoon.
Spread batter into the springform pan.
Bake for 60-80 minutes at 325.
…
Notes & Options:
There are lots of ways to modify this cranberry cake to spice it up, down or just change it to suit your palate. You can try:
– Adding nuts to make it crunchier. Use walnut pieces or chopped almonds and sprinkle them in with the cranberries before pouring the batter into the pan.
– Add 1/2 tsp each of nutmeg and ginger if you want it holiday spicy-like.
– Half the cranberries if you find them too tart, although that's what most people like about using fresh cranberries, the tartness combined with sweet.
– Fresh berries are always best, but frozen ones work just as well as long as you thaw them and drain the excess cranberry juice first.
Enjoy
…
More Cranberry Recipes
– Top Recipes
– Cranberry Bread
– Citrus Cranberry Cheesecake
– Cranberry Upside Down Pumpkin
– Cranberry Christmas Cake
– Cranberry Bundt Cake
…