Ingredients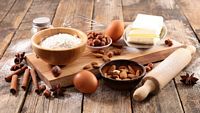 8 Slices of thick white bread
5 eggs
1 cup milk
1 TBSP sugar
1 tsp cinnamon
1 tsp vanilla
Homemade Cranberry topping – See easy instructions here.
Directions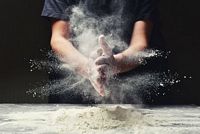 Crack eggs into a shallow bowl and lighty beat.
Stir in milk, sugar, cinnamon, and vanilla.
Dip one slice of bread into the egg mixture (both sides) and place into a heated (med/high) skillet with melted butter.
Cook both sides until golden brown.
Repeat with all 8 pieces and serve warm with cranberry topping.
…
Notes & Options:
A few notes:
– It's better to use real butter rather than margarine or cook on spray. It's not going to make a huge difference if you don't have butter on hand, but butter simply adds more flavor.
– Thicker, home-style bread is usually a better bread to use for French toast rather than the thin white bread we are all used to.
Make it Healthy – Replacing the sugar with granulated sweetener in the batter and in the topping, and buying sugar free maple syrup (if you choose to add that to the already delicious cranberry topping) will ensure your dessert is sugar-free which does make a big difference health-wise.
Enjoy
…
More Cranberry Recipes
– Top Recipes
– Cranberry Scones
– Creamy Cranberry Yogurt Delight
– Use the topping for pancakes too!
– Apple Cranberry Pie Recipe
– Cranberry Muffins
…