Ingredients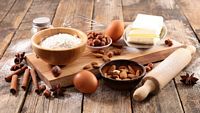 1 cup butter (softened)
1/2 cup sugar
1 cup fresh cranberries
2 cups flour
1 tsp vanilla
TBSP of lemon zest (just yellow, not the white part)
Directions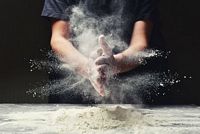 Beat butter, sugar, and zest together until well mixed.
Add flour and vanilla, and blend until the dough comes together into a lump or lumps.
Add cranberries and blend until they are mixed in, but don't blend too much.
Place the dough out onto a lightly floured counter top and bring together with your hands. Work it just until it is no longer crumbly.
Form the dough into a 10-12 inch log. Wrap the log in plastic, using the plastic to smooth out the dough and help form your log. Twist the ends tight to seal.
Chill the dough for at least 3 hours, or overnight.
Preheat the oven to 350F Line a cookie sheet with parchment paper.
Slice the dough into 1/3 inch slices and place on the cookie sheet, two inches apart. Bake for 10-12 minutes.
Cool first then carefully place them onto a plate or a container. They harden the more they cool.
…
Notes & Options:
There are lots of ways to modify this cranberry shortbread recipe to spice it up, down or just change it to suit your palate. You can try:
– Adding in nuts such as walnuts or almonds to the mix to make it crunchier. Use walnut pieces (or chopped pine nuts even) and sprinkle them in with the mixture at the end.
– Add some cinnamon or spice to give it a holiday feel.
– This recipe is sweet. If you'd prefer a more tart taste, so that the cranberries 'shine' more then you can substitute the sugar for sweetener.
– Fresh berries are always best, but frozen ones work just as well as long as you thaw them and drain the excess cranberry juice first.
Enjoy
…
More Cranberry Recipes
– Top Recipes
– Cranberry Fluff
– Your Cranberry Cake
– Cranberry Oat Squares
– Cranberry Clafouti
– Cranberry Jam (Homemade)
– Cranberry Butter
– Cranberry Curd
…