Ingredients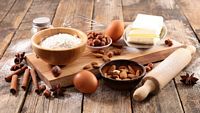 1 cup butter (melted)
1 1/2 cups sugar
2 eggs
1 tsp orange extract
1 tsp vanilla
1 tsp baking powder
1/2 tsp ground ginger
2 cups flour
1 cup white chocolate chips
3/4 cups dried cranberries

Topping

8 oz soft cream cheese
1 1/2 cups icing sugar
1/2 tsp orange extract
1/2 tsp vanilla extract
1/3 cup chopped, dried cranberries
2 squares of bakers white chocolate
Directions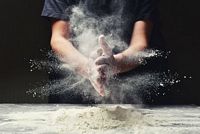 Set oven to 350 degrees F. Line a cookie sheet with parchment paper.
Beat together butter and sugar with an electric mixer. Add in eggs, orange extract, and vanilla extract and beat until mixed well. Add in ginger, baking powder, and flour, beating slightly.
Stir in white chocolate chips and dried crans with a wooden spoon. Spread evenly into the bottom of prepared baking sheet. Bake 18-22 minutes until golden brown at the edges. Don't overbake. Remove from oven and cool. Allow bars to cool completely before adding the topping.
To make the topping/frosting, beat cream cheese and icing sugar together with an electric mixer until smooth and creamy. Add orange extract and vanilla extract and mix well. Top cooled bars with frosting. Sprinkle with chopped, dried crans and drizzle the melted, white chocolate squares over the top with a fork. Place the bars in the refrigerator for about an hour to help them set up before cutting. Cut into triangles and enjoy.
…
Notes & Options:
There are lots of ways to modify this cranberry bliss recipe (which is supposedly a Starbucks copycat recipe) to spice it up, down or just change it to suit your palate. You can try:
– Adding in nuts such as walnuts or almonds to the topping mix to make it crunchier. Use walnut pieces (or chopped pine nuts even) and sprinkle them in with the frosting at the end.
– Add some cinnamon or spice to give it a holiday feel.
– This recipe is sweet. If you'd prefer a more tart taste, so that the cranberries 'shine' more then you can substitute the sugar for sweetener.
– This recipe uses dried cranberries but like I always say, fresh berries are always best, try them out once in awhile and see for yourself.
Enjoy
…
More Cranberry Recipes
– Top Recipes
– Cranberry Fluff
– Your Cranberry Cake
– Cranberry Oat Squares
– Cranberry Clafouti
– Cranberry Jam (Homemade)
– Cranberry Butter
– Cranberry Curd
…