This pie is a big hit. Not as big as the meringue recipe but a close second when comparing pies with cranberries in them. There's also the lesser known cranberry rhubarb pie on cranby.com that is not as visited since both fruit are sour in nature, but it's really good if you like rhubarb.

Ingredients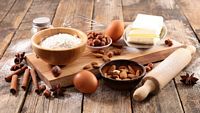 1 cup flour
1 cup sugar
1/4 tsp salt
2 eggs
1/2 cup butter
2 cups fresh cranberries
1 tsp almond extract
1/2 cup chopped walnuts
Directions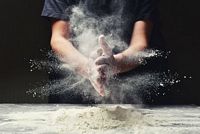 Preheat oven to 350 degrees F. Grease a 9-inch pie pan.
Combine dry ingredients in a medium sized bowl and mix. Fold in cranberries and nuts; stir.
Add in wet ingredients and stir well. Pour batter into greased pie dish.
Bake for 40 minutes or until toothpick comes out clean.
…
Notes & Options:
There are lots of ways to modify this cranberry pie to spice it up, down or just change it to suit your palate. You can try:
– Using fresh cranberries is always best but if you can't then frozen work just as well.
– Add some almonds to the top of the batter. I recommend almond slivers since they are light.
– Try halving the amount of cranberries and replacing the other half with a sweeter berry if this recipe is too tart for your liking.
Make it Healthy – Replacing the sugar in the batter and any topping you may choose to add (like ice cream) with granulated sweetener will ensure your pie is sugar free and purely a starch food. Like eating fruit and bread – much healthier.
Enjoy
…
More Cranberry Recipes
– Top Recipes
– Cranberry Clafouti
– Apple Cranberry Crumble
– Apple Cranberry Pie
– Classic Cranberry Pie
– Ice Cream & Cranapple
…